Cliffdale Community Church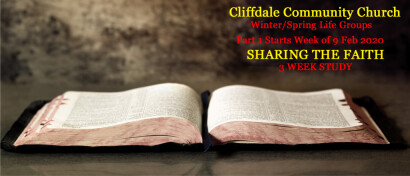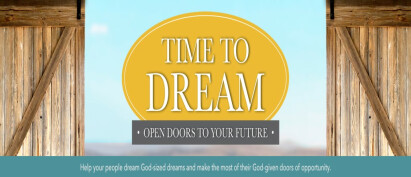 Sharing The Faith (3 Weeks)

&
A Time To Dream ( 6 Weeks)
2020 Winter/Spring Semesters Life Groups
Groups Start Week of 9 February 2020

Sharing The Faith
Sharing the Faith is a church wide study about evangelism and how we all are called to share God's Good News. This study will kick off immediately after our Evangelism class on February 8, 2020 at 10 a.m.
A Time To Dream
In our study, A Time To Dream, we will learn how God created everyone to do something great.
As children, we grow up with big dreams — they are wonderful and amazing and impractical and inspiring. Yet somewhere along the way, we settle for something less than God's best for our lives. Our circumstances might be stressful — or even unbearable — and so we step away from our dreams. In some cases, a lifestyle of poor decisions takes a toll on our sense of wonder and joy. You may have given up on your dreams, but God hasn't given up on you — and he never will.
It's time to dream. Big.
Don't Procrastinate, Sign up for your Life Group IN YOUR SUNDAY PROGRAM now!
Here is a list of our groups that will be meeting this semester. Pick which group you would like to be in and fill out the sign up form at the bottom and list the group # that corresponds to the group you would like to attend.
You only need to sign up once. If you have already signed up during Sunday worship service, you don't need to sign up again.
Mondays
#1 - Dusty & Ralph Grice ~ 6:00pm @ 4709 Woodline Dr.
Wednesdays
#2 - Ron Johnson~ 12:00pm @ CCC
#3 - Gordon Smith ~ 6:30pm @ CCC in conference room
#4 - Chad & Kate Whitaker (Youth Only) ~ 6:00 pm @ CCC in Youth Bldg
Thursdays
#5 - Serena Johnson ~ 7:00pm @ CCC
Saturdays
#6 - Pastor Morris Barnett (Men Only) ~ 8:00am @ CCC in main lobby
#7 - Brenda Johnson ~ 9:00am @ CCC in Conference room
Sundays
#8 - Dale Paschal ~ 6:00pm @ CCC in multipurpose room
*Maximum 16 Participants Per Group*
Questions? Call the Church Office at 910-860-3559 or email

Come Join Us to Connect/Grow/Serve!!
Thank you,
Ron Johnson, Life Group Coordinator
What is a Life Group?
A life-changing Bible study with 8-10 group members who agree to meet together for ten weeks of prayer, Bible study, and mutual encouragement. Group members vary in age, life-circumstances, Biblical literacy, and Christian experience. All are welcome and every attender at Cliffdale is encouraged to participate. In Life Groups you'll get to know others in the church family, make friends, and be encouraged in your faith. Life Groups meet in homes and at the church. Childcare options vary by group.
Why do I need to be in a Life Group?
Cliffdale Community Church's life group ministry is directly related to our core commitment to genuine relationships. It's difficult to build genuine relationships in the context of our Sunday worship service. However, in life groups we have the time and opportunity to get to know one another! This is important because no one can grow in their spiritual journey alone. Fellow-shipping with other believers enables us to become all that God desires us to be.
Our Life Groups also do community projects at the end of each semester. Each Life Group picks their own project.