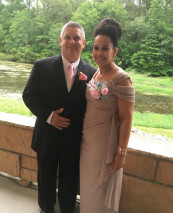 Dale Paschall, Senior Pastor and wife Yeris

Roger Dale Paschall Jr. Born December 5th, 1975 in Durham NC. Attended Southern Durham High School, University of North Carolina at Pembroke, and North Carolina Theological Seminary. Married to Yeris Vergara Wilcox from Las Tablas, Panama. Proud parents of four children; Sarah, Roger, Brianna, Michael and his wife Aaliyah, with one grandchild, Michael Junior and another one on the way.

His hobbies include coaching basketball (male and female), cheering for University of North Carolina basketball team, playing with his grandson, spending time with his children and his beautiful wife.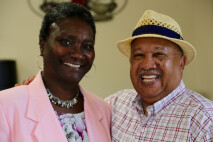 Johnny Hunter, Worship Leader and wife Pat
Dr. Johnny M. Hunter is the President of Global Life & Family Mission, a ministry dedicated to promoting traditional family values, racial harmony, and the survival of children around the world. He is also the National Director of Life Education And Resource Network (LEARN, Inc.), a consortium of life affirming pro-family advocates, which is a prominent African-American evangelical pro-life ministry in the United States.
Dr. Hunter is an ordained minister and co-pastored The National Community Church on Capitol Hill, Washington, DC. He is also the Pastor Emeritus of Church of The Living Water in Buffalo, NY. He has served as an educator, director of a development support center for computer programmers and missionary. Dr. Hunter currently serves as the pastor of worship at Cliffdale Community Church and on the Virginia Christian Alliance Board of Advisors as well as an honoree.
Dr. Johnny and his wife, Patricia, a recording artist, live in Fayetteville, NC. They are the parents of Johnny , David and Danielle. The Hunters are servants of Jesus Christ of Nazareth.
Natalie Keith, Preschool Age Coordinator

(bio and picture to come soon)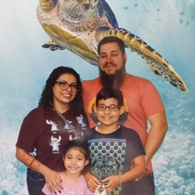 Monica Carrion, Elementary Age Coordinator
My husband and I have been together for almost 13 years, married for almost 12. We have two beautiful children, Jacob and Madison. I was once a RMA in OB/GYN for almost 10 years but now a pre-K TA. My family and I have been faithful members of CCC for almost 7 years. From a member of our praise team to teaching in children's ministry to now fully devoting my time and talent solely to our children's ministry. It was once said that what we struggle in becomes our ministry. That is true. Being with the children has taught me more and has grown me in my personal relationship with Jesus Christ. Teaching in our children's ministry has been quite an adventure and a joy for me. Being able to see the children grow in their walk and develop a Christian life is rewarding. Each week is always something new: lessons, activities and new faces as the gospel continues to reach the hurting hungry people of this world.
May God bless you and keep you.